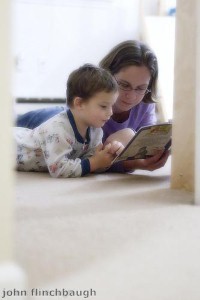 Most parents know that reading to children is a great way to bond and to help build important language skills. Now a new study has found that English-speaking children need to be read to in order to ensure they will be able to read and comprehend the written word.
Educational psychologist and professor George Georgiou from the University of Alberta says that the English language is more difficult than many other languages since letters can have more than one sound each.
"We have found that in English, you need a rich home literacy environment. It's absolutely necessary. Having someone read to you frequently as a child – explaining what the meaning of words are and playing around with the letters – makes a big difference as to whether you will become a good reader," he said.
Experts recommend fathers and mothers read to their kids every day. The best way to ensure this happens is to make it a part of your daily routine and to stick with it.
Letting kids pick out their own books will help them want to read more as well. A trip to the local library every few weeks is a low-cost way to provide you with hours of reading fun. Many dads say that sharing their childhood favorites with their kids can also keep them excited about reading.
Remember that kids who see their parents enjoying reading will want to do so themselves as well.