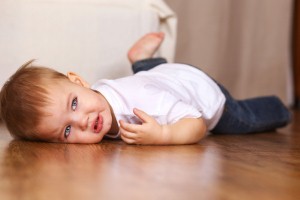 Ask any dad out there, and he'll tell you that despite how much he loves his kids, they can be downright annoying sometimes. Whether it's interrupting an after-hours work assignment you need to have done by 9 a.m. or repeating "Hey, Dad!" a hundred times until you're red in the face, children definitely know how to push a parent's buttons. But even when you're frustrated, it's important to remember that how you respond to your little ones matters. Here are a few knee-jerk phrases you should avoid when talking with your kids.
1. "Leave me alone!"
Sometimes you just need a moment of peace and quiet, but don't secure it at your kids' expense by telling them to "leave me alone!" or "go away!" Author Paula Spencer notes on Parenting.com notes that repeatedly indicating you want to be left alone can unintentionally set up the precedent that you're not interested in what your children have to say – an issue that can grow into serious communication problems as they grow up.
2. "You always/never…"
Little ones are highly impressionable and take what you say seriously. When you're disappointed in them it's easy to fall into the trap of saying something like: "You always forget to do your homework" or "You never finish your chores on time." Believe it or not, kids may actually begin to believe what you're saying and shape themselves to reflect those expectations. Instead, you should find a positive way to encourage them to do what you want, recommends psychotherapist Jenn Berman according to WomansDay.com.
3. "Don't worry"
It might seem harmless enough, but Spencer notes that saying "Don't worry" actually dismisses a child's fears or concerns. Everyone worries about something or other, and you should acknowledge that it's OK to be anxious. Your job as a parent is to help your children recognize this so they can discuss their feelings with you in a constructive way.