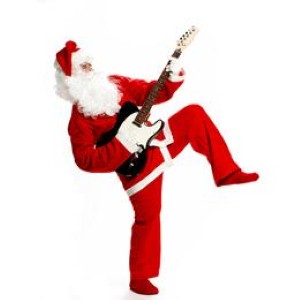 Christmas has many benefits for dads. Presents, good food, and an excuse to sit back and relax without really having to lift a finger. Unfortunately, a lot of movies around this time of year are geared toward the fairer sex. Not a lot of guys want to kick back and turn on Love, Actually or While You Were Sleeping. In fact they often have to settle for that perpetual snoozefest It's A Wonderful Life.
Luckily there are a number of lesser-known Christmas movies that seem to be tailor made for dads across the globe.
1. Bad Santa. This raunchy comedy stars former Mr. Angelina Jolie: Billy Bob Thorton. He plays a surly mall Santa who has a penchant for drinking and debauchery. While it may not be as heartwarming as Miracle on 34th Street, it will at least remind you of that time your drunk Uncle Paul dressed up and sang "Jingle Bell Rock."
2. Die Hard. There are few movies that all men agree are awesome, and this is one of them. Though it has little to do with the Christmas holiday, the entire plot takes place on December 25, so we're saying it qualifies.
3. Black Christmas. The rarely seen holiday horror flick is a classic but dads would be advised to check out the 1974 original as opposed to the 2006 remake. The story begins when a sorority party is broken up by a serial killer and things escalate quickly.
4. National Lampoon's Christmas Vacation. Believe it or not, there was a time when Chevy Chase was actually funny, and here's the evidence.
5. A Christmas Story. Dad's should watch this movie if only to commiserate with Darren McGavin, who plays the typical American dad trying to get through the holidays.