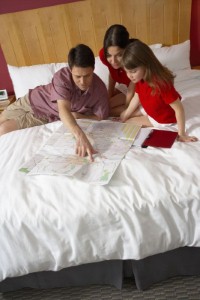 Anyone who's taken care of young children knows that preparation is the key to avoiding disaster. Where road trips are concerned, kids have an incredible tendency to get themselves into remarkable messes. Thankfully, experience has taught many dads that storing a few key items may curb potential calamity.
1. To avoid whining children, always bring snacks. Kids love to develop appetites at the most inopportune moments – like on a long stretch of highway between rest stops However, non-perishable snacks, such as granola bars or fruit snacks, are easily stored in your vehicle. They can be kept on-hand when hunger strikes the youngsters.
2. Bandages, anti-bacterial gel and hand sanitizer. If you have a kid who's old enough to walk, you probably have a lot of adhesive bandages stashed in your medicine cabinet. Remember that a clumsy child at home is a clumsy child on the road, so bring an ample supply just in case.
3. Duct Tape. Duct tape is notoriously handy, including for problems you might run into with your children. Ripped pants? Instant duct tape patch. Broken toy? Fix it with duct tape. Are your children being noisy? Just put it over their mouths and the problem's solved (that's a joke, of course). In fact, there are so many uses for the sticky stuff that you may just to pack some with you.
4. Entertainment. While some kids may be capable of entertaining themselves quietly, most aren't. To give them some respite from their own boredom, make sure to bring an iPod, portable DVD player or Nintendo DS. While you may think these purchases are a bit extravagant at first, try spending four hours in a car with a child who's been given nothing but a coloring book–you might reassess the value of these investments.
5. Garbage bags. Put things in them. Put them on your hands and they work as impromptu gloves. Cover your car seats if things get messy. The uses are truly endless.