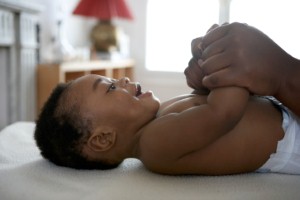 As a father, your primary responsibility is to look out for the safety of your children. In addition, you want to make sure that your children have the best opportunities to lead a healthy, happy and successful life. During early parenthood, part of this responsibility is minimizing your baby's exposure to potentially harmful illnesses such as the cold virus, influenza or bacterial infections. Unfortunately, there is one fatal condition that continues to perplex parents and medical authorities alike – Sudden Infant Death Syndrome (SIDS).
According to the Animated Dissection of Anatomy for Medicine (ADAM) Medical Encyclopedia, SIDS "is the unexpected, sudden death of a child under age 1 in which an autopsy does not show an explainable cause of death." Doctors and medical researchers have been unable to determine the causes of this mysterious condition – making it all the more frightening to young and expecting parents. Even more confusing is that SIDS can strike healthy and unhealthy babies alike with little to no warning.
While medical authorities continue to search for answers, research has revealed some specific information regarding the nature of SIDS. Baby boys are often at greater risk and the condition typically occurs sometime between the first two to four months of life.
Parents can also take vital steps to help reduce their children's risk of succumbing to SIDS. The American Academy of Pediatrics recommends always placing infants on their backs when sleeping – making sure that the bedding surface is firm enough to prevent rolling onto their side or stomach. Babies should also be kept away from any objects or materials that could possibly induce strangulation or suffocation, such as pillows or soft blankets. Studies have also linked smoking during and after pregnancy to an increased risk of SIDS.
And while much of the world co-sleeps with their babies, North American experts warn of the risk of SIDS in cosleeping situations. New moms and dads who believe in or want to co-sleep with their new babies should discuss co-sleeping with their doctor to understand the SIDS risk.
With these tips in mind, you can help better protect your child from SIDS and be the best dad possible.