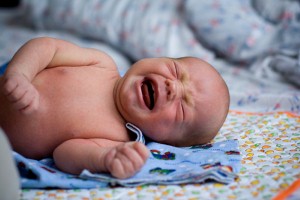 While it may sound like a horrible, horrible disease, colic is actually a term simply used to describe a healthy baby that experiences uncontrollable crying for an extended period of time. Despite this seemingly simple explanation, researchers continue to debate the exact causes and nature of this condition. As a father, you might think that that 20 minutes of wailing can push you to your limit, but a colicky infant can cry for hours on end almost every day.
When it starts
Dr. Harvey Karp notes that colicky babies tend to operate with predictable regularity. While crying fits may waver between a few minutes and several hours, they usually occur around the same time each day several times a week. Approximately 10 percent of infants can be classified as colicky – usually peaking at six weeks old and lasting anywhere between three and five months.
Causes and non-causes
There are a number of theories out there about why babies become colicky, but several of these are disproven misconceptions, according to the Mayo Clinic. In particular, this condition has been shown not to be linked to inexperienced, first-time parents, lactose intolerance, breastfeeding or baby formula. Developing digestive systems and related anxiety are possible explanations for colic, but experts still disagree over the particulars.
Recognizable effects
Beyond crying, colic has a number of recognizable effects in affected children. First off, crying is always intense, red-faced wailing – never weeping or sobbing. You may also notice that your baby balls up and thrashes about during these fits, which can be accompanied by gas or bowel movements.