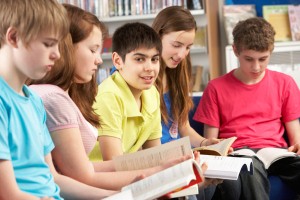 Whether it happens in sixth or seventh grade in your school district, the transition from elementary to middle school can be a nerve-wracking time for many kids. It doesn't help that older kids have probably been filling your little one's head with middle school scare tactics – warning of rampant "swirleys" in the bathroom or doctorate-level homework assignments. Here are a few tips for debunking these myths and making the transition seem less daunting.
1. Upperclassmen bullies
New middle school students are often terrified of being bullied or getting into hallways fights with upperclassmen – an idea that many older kids enjoy perpetuating. While this new social environment can have its ups and downs, remind your child that most schools have a zero-tolerance policy toward bullying, meaning that even the slightest whisper of harassment will be met with swift justice from administrators.
2. Hours of homework
Another fear that children often have about middle school is that after-school fun will now be replaced by hours of homework. It's true that schoolwork increases as your child gets older, but teachers understand that students need time to adjust to this change. During this adjustment period, you may want to make yourself more available to help with developing better study habits and handling difficult class assignments. Pretty soon, an hour or two of homework each night will feel normal.
3. Middle school labyrinth
One of the most basic concerns your child may have is that the sheer size of middle school will be overwhelming – trying to navigate the hallways, finding his or her locker and dealing with several different teachers each day. Consider taking your little one on a tour of the school and arranging to meet a few teachers before the first day of classes to show that middle school isn't so complicated.