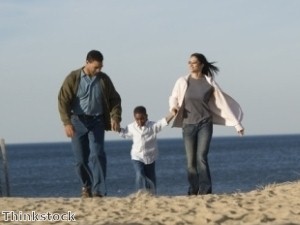 Financial experts say one of the most important parenting advice tips dads can follow is to buy life insurance.
Although no one wants to think about dying, it is a reality that all parents need to plan for. Even young fathers – whether they're single or married – need to ensure they have a policy that will protect their kids and spouses in the event something happens to them.
InsureMe.com reminds fathers that buying adequate life insurance means your kids have the finances they need for their daily lives, education and future careers, no matter what life path they choose.
If you're the sole breadwinner in your family, life insurance would help your family survive financially when you're not around.
Your spouse needs insurance, too, regardless of whether or not she works outside of the home.
"If Mom passes away, there's a huge economic value that has to be covered that she brings," Dave Ramsey, financial talk show host and author of The Total Money Makeover: A Proven Plan for Financial Fitness told iParenting.com. "She's the taxi, the cook, the nurse-maid … she's all of those things and all of those things will take $30,000 to $40,000 a year to replace."
Just how much insurance you need depends on your overall financial stability. Experts recommend speaking with a licensed insurer to determine what type of policy is right for you and your family.