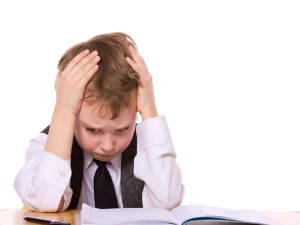 While many dads love to think of their children as obedient little angels who would never misbehave, the time will come when you will have to ground an unruly child or two. This disciplinary action can pose a delicate conflict of interests – as a father, you want to enforce the rules of your house, but you don't want to take punishments too far and create unnecessary hostility in your home. In order to strike this balance, there are a number of factors to consider.
Establish the rules
Before you ground a child for misbehaving, ask yourself whether your child was aware that he was breaking a rule in the first place. In other words, try explaining what you expect of your kids before punishing them for a certain misdeed. For example, if your little one has torn apart every room in the house looking for materials to construct a fort, begin by explaining why that's not allowed and describe the future consequences of such behavior. Then, if it happens again, you will have just cause for grounding.
Consider their age
Grounding can be an effective means of correcting misconduct, but this effectiveness can wax and wane depending on the particular child's age. Toddlers are too young to be grounded – their attention spans are too short to grasp the long-term causes and effects. Stick with the less-intense time out for very young children who act out. However, older children and teenagers should be able to stomach a few days in the cooler.
Be consistent
As with any punishment, consistency is the key to effective results. Backing off from an error one day and enforcing it the next will only serve to confuse your children and undermine your credibility. If children sense this inconsistency in your authority, they will naturally begin to test the boundaries of what they can get away with – leading to more misbehavior.