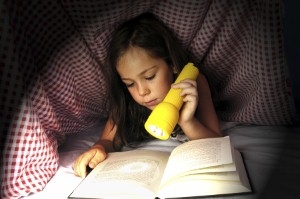 While it can seem like a bit of a cliche, many kids are genuinely afraid that there are horrible monsters waiting to pounce from under the bed or the closet once the lights go out. If your little ones have particularly active imaginations, these nightly terrors can prevent them from getting the good night's sleep they need to grow. It may be a chore, but helping them quell their fears may be what's best for them – at least for a little while. Here are some tips for shining a light on those imaginary things that go bump in the night.
Be smart about storytime
If you're wondering where your kids get such notions of ghouls and goblins in the dark, you may want to reconsider the types of stories you read before bed. Even if they like a good scary story when the lights are on, these images can stick with them. Consider sticking with lighter subject matter instead.
Bedtime inspection
Despite your reassurances, sometimes kids need more than your good word to understand that there are no monsters in the room. You can help quell these fears by conducting a thorough inspection of possible bogeyman hiding spots like the closet, under the bed and in dark corners. Consider making a big show of it to drive the point home.
A nightlight
If your kids still aren't convinced there are no monsters lurking in the shadows, give them the one weapon all imaginary beasts fear most – a nightlight. While it's a small comfort, the warm illumination can shield them from the dark without infringing on their ability to fall asleep.