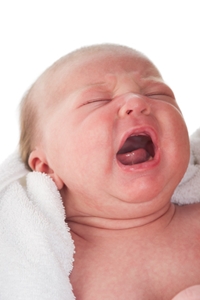 That first month. Wow.
It's indescribable and looking back, part of me doesn't think it really existed. But it did and truth be told, nothing can truly prepare you.
The reason is because that first month is all reactionary, much like the first level of a new video game. There's trial and error, and not everything works. Occasionally you get covered in goo.
It's incredibly easy to feel nostalgic about that time period. My wife and I always talk about "remember when" and list some horrible experience we went through at 3 a.m. And then we sigh with relief that we're not in that stage anymore.
Here's the truth. Within that first month you're a newbie at this parenting thing and experiencing what is undoubtedly the hardest part. Sure there's crying and late nights, but the real challenge is  that you are just getting to know this small little human. All children are different and each one settles down or eats or plays a different way. To make matters worse, none of these children come with an instruction manual.
So here are the 5 things I learned in that first month. Maybe you'll experience the same, maybe you won't. At the very least, you can say someone tried to warn you.
1 Sleep Deprivation is real and it will be unlike anything you have experienced
Imagine living in a constant state of fear that a random alarm will go off forcing you to a room for who knows how long. Now imagine dealing with that with no sleep and on a diet of junk food (you won't have time to really cook or eat anything else). That's what happens.
What you have to remember is that a newborn typical eats every 3-4 hours (the time depends on a lot of things like weight, size, etc). This means even if they are asleep, you are forced to wake them up. Never wake a sleeping baby? That's not real till later. In the first month, you are waking them up all time.
2 The cries will pierce your brain and you will want to scream
You will be tired. You will ache. You will wonder why you thought this parenting thing was a good idea. And at that precise moment of weakness your child will somehow scream LOUDER.
Seems unlikely? I promise you it will happen. You'll go through the regular diaper checks, bottle feeds and swaddling. Eventually you'll figure out none of that is working and resort to unique methods such as:
-singing anything you can think of
-crying with the child to let them know you understand their pain (spoiler alert, this doesn't help)
-placing them in every bouncy seat, crib and pack-n-play you can find
-playing the Hootie and the Blowfish album you have believing that somehow Darius Rucker's voice is soothing.
The truth is you may need to ride it out. Sometimes it means switching between you and your partner. But know this. Eventually, they do stop. Even if it's 3 hours later.
3 Always say yes to help and sleep when family show up
Your friends and family will want to visit. They will want to help you in some shape or form. Let them.
If it's your friends, allowing them to cook/buy you dinner is fine, as well as holding the baby for a little bit so you can do a quick chore.
If it's your family, it's perfectly acceptable to give them your child and then retire to your room for much needed sleep.
You can't sleep if your friends are over, but your family will get it. If anything, they WANT you to sleep just so they have more alone time with the new family addition. Even if it's 15 minutes, it can be life saving.
4 Every book is wrong and every book is right
There are a lot of books on child rearing and it's up to you if you want to read them. If found them to be equally entertaining and frustrating. Sure, a book may tell you how to calm a screaming child in general, but what you need to know is how to calm a screaming child whose diaper you are desperately trying to change in the middle of the night.
However, there are nuggets of truth in there, you just have to be patient enough to find them.
5 Babies eat and poop. That's it
I had images of playing around with my child when I was on paternity leave. That didn't happen. Most of the time, you are holding the child and watching them squirm. They don't do much else. At times, you may wonder what to do with yourself. At that moment, your child will start screaming. They can sense when your thoughts wander.
The first month is all about survival and getting the kid back to their birth weight and beyond. So this means a lot of eating and a lot of pooping. I promise the playtime will come. It just doesn't happen much in the first month.