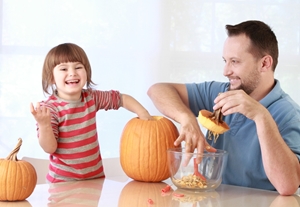 While dads can share an unshakeable bond with their sons, it's the father-daughter relationship that might be harder to bolster.
There's a bevy of activities for you to do with your son, but there's an equal amount of things to do with your girl. Here are a few ideas to get you going.
Hiking
This outdoor adventure can help foster a strong bond between you and your daughter. Taking a day to get away from all the distractions of your surroundings brings you closer together, as it's nothing but the two of you and Mother Nature. It's a simple activity that can have a positive effect on your lives.
Ice cream
Another simple, but effective, thing to do with your daughter: getting ice cream. During warm summer nights, make it a weekly tradition for the two of you to take a trip to the local Friendly's or boutique parlor for some cool scoops of your favorite flavor. No matter how old she is, she'll always cherish the nights sipping milkshakes and sharing banana splits with her dad.
Sports game
Sons aren't the only ones who can bond with their dads over a sports game. Bring your daughter to the next big game and cheer as loud as possible for her favorite team.