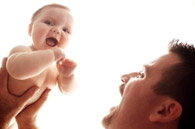 If you are anticipating the birth of your new baby, this is a good time
for you to start setting up a baby room or nursery. While there are no
set standards for baby rooms to follow, you will need to invest thought
and care on this project. After all, this is where your baby will spend
most of her time.
Here are some of the important points you need to consider:
Tip #1: Select the right room

The location of the room you choose for your baby requires careful thought. Proximity to your own bedroom is preferable—it will save you the trouble of walking across the house or climbing a flight of stairs every time you wish to check on your baby. Also remember that the room should be a quiet one.
Tip #2: Buy baby-friendly furniture

Practicality is the key point while buying furniture and bedding for your baby room. Remember, this is an ongoing process as you will keep buying newer items and discarding some of the old ones to meet the growing needs of your baby. A crib, of course, will be the most important item to start with. A glider is another very useful item for a baby room. A dressing table with shelves to store stuff, while not essential, could be an asset. A mobile hung over the crib is a good idea to keep your baby entertained.
Tip #3: Arrange the interiors

Do not clutter up your baby room—it is important that you have room to move around freely, feed the baby, change diapers etc. Eventually, you will also need to set up a playpen—keep this in mind while planning the layout of your baby room.
Tip #4: Decide on a theme

While you can easily do without it, integrating a theme can be the most exciting and creatively challenging part of setting up the baby room. A popular theme includes something to do with animals, such as 'jungle' or 'farm animals'. An underwater theme with its soothing blue overtones is another popular idea for baby rooms. Another option is to use cartoon characters such as Mickey Mouse or Bugs Bunny. You are free to think 'out of the box', while coming up with a theme. However, keep the interest of your baby in mind and resist the temptation to pander to your own passions. A Star Wars Expanded Universe theme, for instance, is just not appropriate for a baby room.