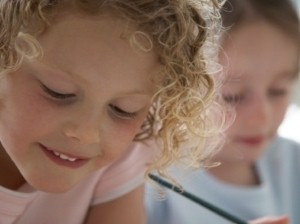 It seems like common sense that children who have parents who are involved in their schoolwork often do better in their studies than those who have parents who couldn't care less about their grades. Without being too overbearing it would behoove fathers to become involved in their kids school and be as communicative as possible with teachers and the administration.
An easy way to open a line of communication is to discretely talk with teachers here and there about how your son or daughter is doing. If things are going well, subtle compliments may help grease the skids for your child. As hard as it may be, just don't pull a Don Draper – that could spell disaster for your children (and your wife. And marriage).
As important as it is to be involved when things are going smoothly, it's even more important to be available when things are bad. Getting on top of problems as they arise can help address the issue before it snowballs.
For fathers who are feeling especially ambitious, volunteering s a good idea as well. This way, you will be in close contact with other parents and you might even be able to implement some of your own good ideas in the school.