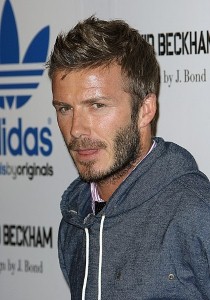 Soccer star David Beckham may be a master on the field, but when it comes to talking to his kids about sex, he needs a little help.
Beckham, who has three sons with wife and fashion designer, Victoria (a.k.a "Posh Spice" of the former girl group The Spice Girls), recently told Ryan Seacrest that having "the talk" with his oldest son, Brooklyn, made him extremely uncomfortable.
"I had to walk out of the room," US Weekly reports Beckham said during an interview for On Air with Ryan Seacrest. "Because Brooklyn's looking at me out of the corner of his eye, kind of laughing. It was a serious talk and I had to get out!"
The 35-year old celebrity dad said that his wife ended up doing most of the talking instead.
He added that Brooklyn, 11, had recently started at a new school and was receiving a lot of attention from girls.
The Beckhams also have sons Romeo, 8, and Cruz, 5.
Originally from England, the family currently lives in Los Angeles while David plays soccer for the L.A. Galaxy.