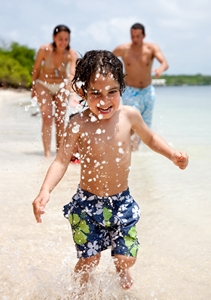 Heading to the beach with the family is a time-honored summer tradition filled with sand castles, volleyball games, ice cream and plenty of lounging in the sun. While swimming in the ocean can certainly be fun, the sea is not without its share of dangers. Keep these ocean safety tips in mind when planning a trip to the beach this summer.
Keep everyone in sight
Kids have a habit of wanting to explore far and wide once they arrive at the beach, so it's important to limit their activities to areas where you can keep an eye on them. Make sure everyone in your family stays within a designated patch of beach when swimming in the water as well as playing on the sand. Should anyone want to explore deeper into the ocean, make sure you or your partner is there to supervise.
Beware of riptides
One of the hidden dangers of the ocean are riptides, which are powerful tidal forces that can suddenly suck an unsuspecting swimmer way out beyond the shore. These develop when sandbars under the surface break, causing a vortex of rushing water. Inform everyone in your family of proper safety procedures should a riptide occur, which involves swimming with the current out to the side, rather than against the pull.
Watch out for lifeguard warning signs
Some beaches will often experience issues with local jellyfish populations or even a shark sighting. When you arrive at the beach, look out for any postings from lifeguards warning about these potential threats and plan accordingly. While shark bites are rare, contact with a jellyfish can really sting!