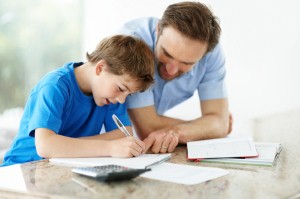 Amy Chua caused quite a stir earlier this year when she detailed her strict Tiger Mom parenting philosophy. One dad caught wind of the phenomenon and realized his parenting style was much different. Alan Paul, a freelance writer, considers himself more of a Panda Dad, and prides himself on offering his three children freedom to make their own decisions.
Paul, who often acts as a stay-at-home dad, witnessed first hand the Chinese parenting style advocated by Chua as he has been living in China since his wife's career moved his family toward the had to move for work. He says that his parenting style is relaxed, but still employs a fair amount of common sense and is firm when he needs to be.
"One our children had a report card that wasn't what we though it should be but we didn't berate him, we didn't call him garbage, we made it really clear that we expected it to be better," Paul told The Today Show.
He met with some criticism after writing a column in The Wall Street Journal about his parenting skills, some saying he was too soft. However, he maintains not operating in a super-strict household makes children more responsible for their own actions.
Still, there's no style of fatherhood that fits for everyone and at the end of the day only you know what methods are best for your kids.