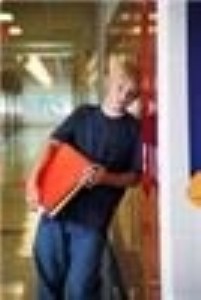 They may be confident of their parenting skills at home, but many mothers and fathers are worried about how safe their children are at school, a new poll suggests.
Some 46 percent of respondents to the ADT National Back-to-School Security Survey said they were very or somewhat concerned about school security.
Around 45 percent feared sexual predators could approach their child, while 36 percent were worried that a school shooting or other violent attack could occur.
The study found that moms and dads were eager to implement further safety measures, with nearly three-fifths (58 percent) saying they would be open to paying for tighter security at their child's school.
Brad Dennis, director of search operation for non-profit child safety organization KlaasKids Foundation, said that sharing ideas and parenting advice can help create change.
"By forming and promoting partnerships with concerned parents and other citizens, we can become part of the solution to keep our kids safe," he commented.
There were 11 homicides recorded at U.S. schools in 2007, according to the Youth Violence Project.