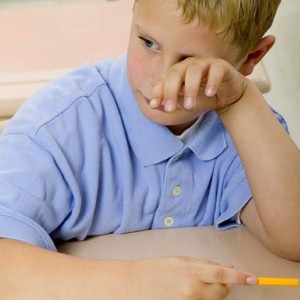 School is tough. For younger children who aren't yet used to the daily grind of institutionalized rules (like wearing clothes), it just doesn't make a whole lot of sense. Why do they suddenly have to sit still and not play? What's the reason for raising your hand? Why are some kids mean to them? Why is the teacher so grumpy?
According to Alison Ehara-Brown, a licensed clinical social worker and school consultant, "If a child is acting out a lot in school, my assumption is either that she's having strong feelings and needs a hand with getting those feelings out, or that something in school is really not working for her." Luckily, Brown has some advice that can help improve your child's experiences in primary school.
If your child has trouble adjusting to the rules and regulations of the classroom, try to view his challenges first-hand. Ask to spend a day observing your child during school hours. If you can't make it, send a trusted relative or friend. By gathering information, you can find out the root cause of your child's behavior problems in the classroom.
The second step, according to Brown, is to check out your child's relationship with the teacher. Does he like the teacher? Does the teacher like him? Many problems stem directly from a teacher-student misunderstanding. Oftentimes, just letting the teacher know how your child feels is enough to make the instructor adjust his or her behavior. If there's a serious issue, think about switching your kid to a different class.
Next, meet with your son's teacher and form a strategy that addresses how to make the best of his class time. Take your child's interests into account. If he likes to draw, ask his teacher to encourage that skill. If he likes singing, look into the school's music program.
If your child gets homesick during the day, consider Brown's suggestion to give him a trinket or a note that he can take to school. The token will serve as a reminder of the comforts of home and family.
All children eventually have to learn to cope with the real world, and primary education is often the first step in that process. By remaining attentive to your sons needs, you can ensure that his first years in school amount to a positive learning experience.