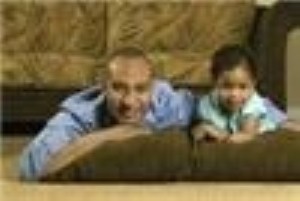 As Americans of all ages find themselves challenged by the nation's current financial crisis, fathers and mothers of young children are being forced to reevaluate their childcare options due to money concerns.
An article in the Wall Street Journal reports on the confusion and uncertainty that many are facing as job loss and shifting responsibilities place stress upon their parenting skills.
Some people have pulled their kids out of daycare because they can no longer afford it, which creates the question of where the children will spend their time.
Missouri plant worker Kevin Eaton explained that he withdrew his 4-year-old daughter from preschool after he lost his job. However, having to stay at home has meant that he has been excluded from new job openings that require in-person applications.
Others described how they have arranged a system so that their kids are taken care of in various time blocks by different relatives and friends.
Although some moms and dads may worry about the effect of changing their child's care routine, experts said that there is no proof that mild upheaval harms kids.
Ellen Galinsky of the Families and Work Institute gave the parenting advice that making sure a caregiver is caring and responsive is the most important element.