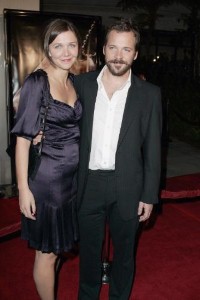 For many fathers, using their parenting skills to teach their children about their favorite hobby, sport or interest can create a special bond. According to actor Peter Sarsgaard, if he had his way, he would spawn an entire soccer team.
"Every child that I have must play soccer," Sarsgaard said in a recent interview with DailyBreeze.com.
Sarsgaard, who is the father of 2-year-old Ramona who he had with actress Maggie Gyllenhaal, admitted that he still finds time to kick the ball around, despite causing minor damage to the home.
When asked if he enjoyed being a father, the 31-year-old actor reportedly smiled and replied "I do, I do," according to the article.
The actor, who is best known for his roles in films such as Garden State, Boys Don't Cry and Flightplan, said that prior to his acting career he had his sights set on being a professional soccer player.
"I got into acting because I couldn't play soccer anymore," Sarsgaard told the news provider. "I had sustained a number of injuries. I had gotten a couple of concussions."
Currently, Sarsgaard can be seen in The Mysteries of Pittsburgh, an adaptation of Michael Chabon's novel, which had a limited release in Los Angeles and New York.