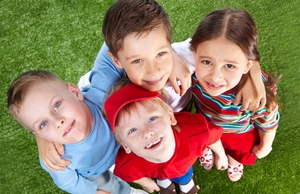 Between playing with friends, going to school, participating in extracurricular activities and hanging out in the neighborhood, there are plenty of situations where your children will come into contact with strangers. While the majority of people in your community likely pose no danger to your little ones, it's important to teach your kids how to handle themselves should a suspicious stranger come their way. Here's some parental advice to prepare your family.
Stay in the know
If your kids are out of sight, they definitely shouldn't be out of mind. When your children are heading off into the neighborhood, make sure you establish where they'll be, who they'll be with and how you can get in touch with them. Similarly, teach your children to always inform you of changes to their plans – that way, you'll never be out of reach. You may want to entrust a responsible child with a cell phone in case of emergency.
Distinguish friendly strangers from unknowns
Technically speaking, anyone your kids don't know can be considered a stranger. People like teachers, department store employees and police officers are there to help, though, so your kids shouldn't hesitate to approach them for assistance if the need arises. However, your little ones ought to understand that they should never go with or accept offers from other unknown individuals.
Establish an emergency contact process
If you're unable to reach your children directly for any reason and need to rely on another person to send a message, make sure you have an emergency code word established so your little ones know the individual is trustworthy. A secret and easy-to-remember word like "penguin" or "banana" can prove to your little ones that a stranger is telling the truth about an emergency situation.