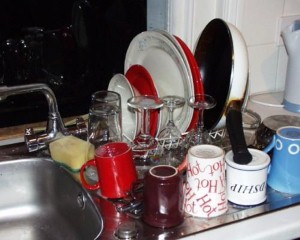 It may not be the first parenting skill that occurs to you or an obvious way to participate in some father-child bonding, but teaching your kid how to do housework could be beneficial for their future.
A new study conducted by the Maryland Population Research Center found that children spend less than a half-hour each day doing household chores, according to the Wall Street Journal's Work and Family columnist, Sue Shellenbarger.
This figure represents a 12 percent decrease from 1997 levels and a 25 percent drop compared with the proportion reported in 1981.
The article suggests that this change in attitudes and behaviors could have a lasting effect on community and home life in the future, as youngsters grow into adults who lack basic skills.
At the same time, Shellenbarger does not directly advocate the parenting advice of assigning children a long list of chores to occupy their after-school hours.
"Children aren't doing housework partly because they're spending more time on such worthy pursuits as reading, studying and youth groups," she writes.
Working fathers in America spend an average of 14.5 hours per week on childcare, housework and shopping, according to a 1998 study published in the Journal of Marriage and the Family.