May 2007
The U.S. Consumer Product Safety
Commission, working with the RC2 company of Oakbrook, Illinois is recalling selected wooden items
from the Thomas the Tank Engine line. These toys were painted with paints containing lead and should
be taken away from young children immediately. Ingesting lead by young children can have adverse
health effects.
For dads looking for a quick solution, the most important words in this
recall are "red" and "wooden" but include a three yellow items and their larger toys. Most of the
toys involve the character James. To find out which products are recalled, go to cpsc site and look for this
picture.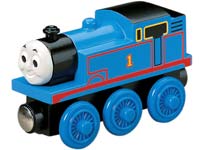 Thomas The Tank
Engine
Dads should contact the manufacturer or look for
the latest recall info at the firm's Web site at recalls.rc2.com Or call the RC2 Corp. toll-free at (866) 725-4407
between 8 a.m. and 5 p.m. CT Monday through Thursday and between 8 a.m. and 11 a.m. CT Friday. RC2
was at first asking consumers to pay return shipping for the items, but is reportedly replacing them
including shipping both ways.
The U.S. Product Safety Commission recommends sending this info
to friends who may otherwise not have heard news of this recall. You can do this by visiting their
site or by simply
forwarding this
article.