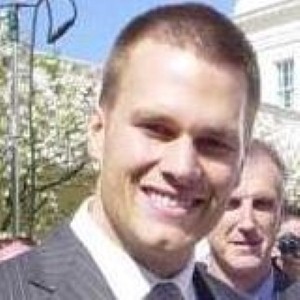 While New England Patriots quarterback Tom Brady is finally back in practice following a season-ending injury, his thoughts may still linger on his 21-month-old son from time to time.
In a story appearing in the June 1 issue of Sports Illustrated, the 31-year-old spoke candidly about how he looks forward to the time he has with John Edward Thomas, whom he affectionately calls "Jack." Brady shares custody of Jack with actress Bridget Moynahan.
"I don't see him every day and we play when I change his diaper: lifting his leg up, playing with his toes, biting his feet," Brady told the magazine.
The football star added that he has a different appreciation of fatherhood because of shared schedule.
"If you had him every day, you'd go, 'Let's just get this done,'" Brady said. "But when you get him, say, one week a month, you're like, 'This is so cool!'"
However, sometimes that frivolous fun can get the football player in trouble. Two days after receiving knee surgery, Brady put his son on his shoulders in the hospital room in an effort to prove he could recover quickly.
While fun, it reportedly caused a hematoma on his knee, which resulted in a staph infection.