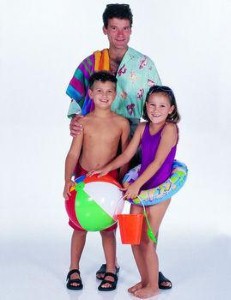 With more people looking for ways to save money in this economy, fathers who are planning a family trip over summer vacation may want to use their culinary skills as a way to prevent from spending too much money on restaurants.
By cooking large family dinners and making simple lunches, fathers can save a significant amount of money by not spending $30 to $50 or more a day on prepared meals.
To do this, fathers must use their parenting skills to plan out how they use home-cooked meals. The first step is to find a hotel with a kitchenette. While the price may be more expensive when compared to a typical hotel room, the money saved and health benefits will be worth it by not having to order pizzas every night.
In terms of dinners, think of big hearty meals that can freeze easily such as chili or meatballs. This may require fathers to cook well in advance so that the food can remain in the freezer for a longer period of time (making them rock solid will help with a long drive).
Packing your own snacks and going light on lunch (sandwiches are best) will also help fathers adhere to their travel budget.