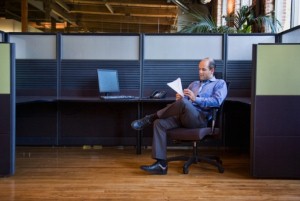 These days, with computers, tablets, and mobile phones, fewer businesses are requiring employees to come into an actual office. If your company offers an option to work from the comfort of your own home, should you take it? Or will staying home every day have a negative impact on your career?
For many dads, the option to work from home is a lifesaver. It gives them extra time to spend with their families, more flexible hours and the chance to see their wives a little more often. However, when working from home, the line between business and leisure can sometimes get a bit blurry. It's important to remember that work hours are still work hours, no matter where you are.
If you do choose to stay home, one way to ensure you have a productive professional life is to construct a home office for yourself. You can carve out a section of an existing room or redecorate an old room as an office by adding a desk, some file cabinets and a comfortable chair. Make sure your family knows that when you're in your "office" you need to be left alone so you can complete important work.
On the other hand, you may want to continue heading to the office – and that's fine, too. Lots of dads find professional time at work to be a welcome addition to their family lives, and are able to successfully balance both.