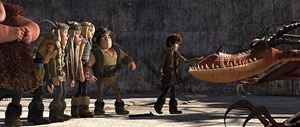 Movie Review: "How to Train Your Dragon 2"
Rated: PG
Running time: 1 hour, 45 minutes
Release date: June 13, 2014
Child friendly?
A sequel to the first film of the franchise released in 2010, "How to Train Your Dragon 2" brings back the familiar cast of amiable Nordic dragon tamers and their adventures with their flying pals. Writer and director Dean DeBlois returns to the second flick alongside an intact cast from the first movie – Jay Baruchel (Hiccup), Cate Blanchett (Valka) and America Ferrera (Astrid) all lend their voices to the flick as well.
Though it may take place in the snow-covered wilderness of Scandinavia, "How to Train Your Dragon 2" might be the perfect summer movie for fathers to take their kids. Common Sense Media recommends that kids 7 years old or above will be mature enough to enjoy the action sequences, though the death of a significant character may be too much for small children. The addition of a new romantic interest for several characters means that some light sexual references are dropped, but nothing inappropriate is shown on screen. Overall, most characters are kind-hearted and serve as great role models for small children.
Popcorn friendly?
"How to Train Your Dragon" surprised many audiences as a sleeper hit among animated movies, but critics have expected a lot out of the sequel. Fortunately, DeBlois has taken what made the first installment so endearing – a villain-less journey about overcoming prejudices – and transformed it into another movie about self-discovery and growing up. This storyline may not sound terribly entertaining for adults, but DeBlois punctuates dialogue-heavy scenes with tightly scripted and choreographed action. One second, characters will be talking around a campfire, but the next scene throws them on the backs of their dragons and soaring through the sky. In fact, the animated action sequences are of a similar caliber to some of the top-budget blockbusters you'll watch this summer. Fathers can kick back with some popcorn for those scenes alone.
Fathers might find the number of characters, along with their dragon companions, a little too large to keep track of, but the main story is careful not to verge too often into the sentimental. After all, the audience that DeBlois found success with in 2010 is now almost half a decade older and wiser, so the same tricks won't work in the sequel. Instead, DeBlois is happy to let his characters explore their new mature spaces without bogging the narrative down in introspective ballads or brooding montages. On the whole, "How to Train Your Dragon 2" is a successful sequel to a surprising hit, setting the franchise up for a blockbuster third installment five years down the line.