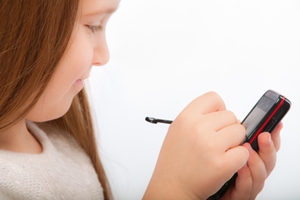 As a father, sometimes you might think that the world was a lot simpler when you were growing up. Now, your kids have iPads, iPhones, Xbox 360s and who knows what else. While most of your kids' devices are just harmless toys, you should be wary when it comes to how your kids spend their time on their smartphones.
Texting and sharing pictures may seem like not big deal, but there are some apps that can get your kids into big trouble. Check out these five apps you shouldn't let your kids download on their smartphones:
Snapchat: This app deletes pictures and videos after 10 seconds, which means your kids could be sharing inappropriate messages behind your back.
Omegle: Essentially a giant chat room, Omegle lets any stranger with an Internet connection talk directly with your kids.
Tinder: A popular app for teenagers and 20-somethings to hookup for casual sex, Tinder should be the last app on your kids' phones.
Kik: This simple messaging app doesn't send texts and pictures over the wireless network, so there aren't any records to check up on what your kids are up to – or with whom.
Poof: If your kids have apps they don't want you to see, Poof hides the icon from the home screen.
Even without these, there are plenty of apps out there that your kids can have a great time on – as long as they don't use too much data!