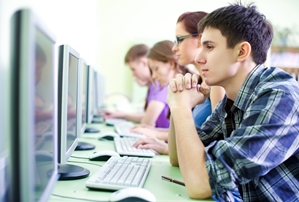 Curl up with a hardcover dictionary and flip through the pages. You'll soon find that a pussy is a young cat and a cock is a grown rooster. A tit is a small songbird and an ass is a stubborn mule.
Now try typing those terms into an online search engine, and you'll get a quick lesson in graphic anatomy, and probably have to run an anti-virus scrubber on your hard drive when you're done.
This is the challenge facing any dad who is trying to teach his children about the birds and the bees during the Internet Age.
Having The Sex Talk is one of the most important jobs a father can do for his children. Discussing health and biology with sensitivity and respect is a lesson that will serve any child well throughout his or her life. However, a mindful dad has to raise his game to keep up with the ever-younger introduction of sexuality in advertising, Halloween costumes and even smartphone texting.
Here are five tested tips for handling conversations with kids about sex:
1. Put a password or a filter on your PC. Open access to a computer is probably not the appropriate tool for this task. The laptop can be a great research tool for book reports or art history essays, but a curious tween on a self-guided tour of the human body can quickly swim out beyond her depth.
2. There are plenty of quality books available to fit any family's approach to sex-ed. Do your children a favor and buy one for your home's bookshelves. Trust me, they'll find it.
3. Make sure you get there first. If you don't teach your child about sex, then someone else will, and your kid could be basing decisions on schoolyard whispers and YouTube videos.
4. Keep the conversation open for discussing any topic, from angry politicians railing about gay marriage to Miley Cyrus wearing an absurd costume on the cover of Rolling Stone.
5. Don't stop after covering basic biology. It's just as important to talk about the emotional aspects of growing up – such as flirting, having a crush, exclusive relationships, privacy and respect.