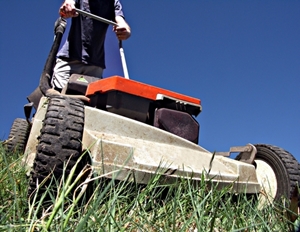 My 9-year-old son pushed the growling lawnmower across our modest lawn, grunting as he struggled to make the sharp turn at the edge of the yard. A pair of passing pedestrians raised their eyebrows as I quickly bent to grab the electric cord out of his path before he sliced the wire.
Had I been wrong to agree when he asked to try running this dangerous machine? What sort of a dad puts a young boy in charge of whirling blades? As he started mowing another strip of lawn, I ran through a mental list of pluses and minuses for teaching kids to use power tools.
On the downside:
There was the nightmare potential for danger and injury. Those whirling blades would quickly slice off a toe or finger if he was clumsy in handling the mower.
Also, those blades could throw a rock through the air if he mowed over a gravel patch.
And finally, he was doing a terrible job – my front yard now looked more like a gnarly obstacle course than a manicured baseball diamond.
But there are plenty of benefits, too:
Anytime a child volunteers to help with household chores, a father smiles with pride.
He'd probably have to learn to use a mower sometime – why not today?
Learn how to use one power tool with care and respect, and you can transfer the skill to other tools, like a power drill or a circular saw.
My son reached the other edge of the lawn and threw his weight against the handle to turn the machine around for another trimming pass over our shaggy grass. Several daisies in my wife's flower bed disappeared in a puff of white and yellow.
Just then another neighbor walked past our house, raising his hand in greeting as he walked his dog. "Send him over to my place next year and he'll have a summer job!" he called out.
A job offer at the age of 9! I added that as Number Four on my list of benefits and bent over again to flip the trailing electric cord out of the way, just in time.