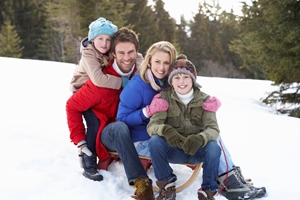 While you and the kids may have enjoyed going to Disney World or the Grand Canyon when they were still young, now that you're living with adolescents, planning a family vacation can be a whole new game. To avoid the potential groans, sighs and eye rolls that can accompany an extended getaway with Mom and Dad, here are three tips to get your tweens and teens excited about an upcoming family vacation.
1. Give them plenty of warning
It might seem like good fun to surprise the kids with news about an exciting vacation plan, but this sudden announcement runs the risk of catching your adolescents annoyed and off-guard. If you're concerned that your kids may be looking forward to a school dance, party or mini-vacation of their own, make sure you give everyone time to adjust their plans around your trip.
2. Involve them in the decision process
You have a much better chance of sparking your kids' interests in a family getaway if you involve them in the planning process. Once you've decided on a block of time to schedule the vacation, weigh everyone's suggestions on where you should visit. While you may have varying tastes to contend with, it will be easier to find a choice that everyone is happy with this way.
3. Keep it short
While two weeks away from the office might sound great to you, your teens might have a different opinion on spending 14 days with just their parents and siblings. All that time in close quarters with family can wear anyone down, so keep your trip length on the medium side for the smoothest sailing.