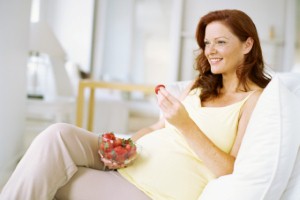 While you've always considered yourself a team, enduring nine months of pregnancy is the ultimate commitment test for any couple. As a soon-to-be father, your major responsibility during this time period is supporting your wife in every way you can. She'll be going through one of the most confusing, anxiety-producing and physically challenging transformations of her life while your baby grows in her womb, so set to it that she stays comfortable and cared for all the while. Here are some simple tips for accommodating your wife during pregnancy.
Romance
As she progresses through pregnancy, your wife will likely encounter some mental stress and body issues that will make her feel less-than-attractive. Part of your job is to remind her how beautiful and amazing she is in spite of her discomfort. Whenever you can, plan a romantic evening at home or a much-needed date night out on the town to keep the sparks flying in your relationship.
Manage the home
If your wife is used to being the primary homemaker, do some role reversal throughout the course of her pregnancy. Carrying a child isn't a total pass on all responsibilities, but you can help lighten the load by assuming some of her daily tasks like picking up your other children from school, taking care of the bills, cooking dinner and cleaning the house. She'll appreciate anything you can do to keep things calm and relaxed for her at home.
Read up
Your wife wants to know that you're as committed to your new baby as she is. While it's a given that you'll be there with her for child-birthing classes and doctor's appointments, go above and beyond the usual parent preparation at home too. Pick up some pregnancy and early childhood books to show that you're interested and concerned about being the best father you can.