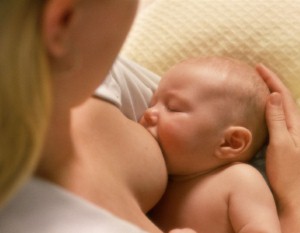 There has long been speculation as to why human brains were among the biggest in the animal kingdom, but a new study is attempting to put the to rest. Researchers believe that duration of breastfeeding after birth has a correlation to brain development in certain species – including in people.
The research team was led by Robert Barton from Durham University in the United Kingdom, who examined the brains and breastfeeding duration of 128 different mammals, LiveScience reports. What they found was that the length of time offspring is breast-fed resulted in a relatively larger brain.
"Humans have the biggest brains for their body size." Barton the news source. "Things like dolphins and killer whales aren't that far behind, but there is a big jump between anything else and humans. We take a long time to mature and that seems that's directly related to the development of the largest brain."
What this emphasizes, Barton suggests, is that breastfeeding plays a larger role in brain development than originally thought and the data bolsters the World Health Organization's stance that new mothers nurse for at least six months. However, the team added that their study does not suggest a developmental disparity between breastfed and formula-fed infants.