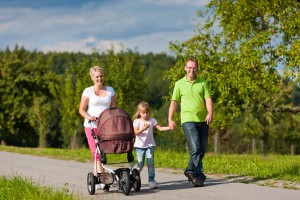 For parents, the coming arrival of a new child can be an exciting and wonderful time. A baby means a new addition to your growing family and requires a lot of attention, energy and preparation.
Of course, while parents with an existing child may feel more confident and ready for a second baby, older siblings can often feel conflicted about the prospect of a new brother or sister. As a dad, you may be surprised to find your firstborn acting unusually both before and after your new baby's birth. Where you see a new family member, your oldest child may see an intruder and competitor.
According to the University of Michigan Health System, these initial feelings can signal the start of an ongoing sibling rivalry and result in aggressive behavior, jealousy and even regression to earlier stages of development.
Much of your child's behavior regarding a new baby can be decided by how you inform them of the news. Depending on your oldest child's age, you can determine how much detail to provide about the pregnancy. Toddlers may not fully comprehend this news, so be sure to speak in more general and understandable terms.
However, older children may display curiosity about their sibling and the process by which it will arrive. While you prepare for your new child's birth, include your firstborn in activities like reading books on pregnancy (age-appropriate, of course), visiting friends' and family members' babies and going to the doctor – doing so will make your child feel included in the pregnancy.
You can emphasize this inclusion by making sure your child is one of the first people to see the newborn baby after labor, as this will help solidify the birth as a family event. Once your new baby is home, continue to involve your older child with raising and caring for the infant. There's no guarantee that there won't be sibling conflicts down the road, but taking these steps is a good way to diffuse future tension.