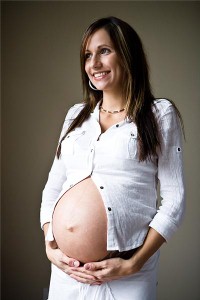 Throughout her nine months of pregnancy, your wife's body and mind will undergo a significant amount of stress, transformation and discomfort. Morning sickness, mood swings, odd food cravings and bouts of depression are all common symptoms of what some women consider the most trying (albeit rewarding) experience one can undergo.
Sure, you're not the one carrying, but that doesn't mean you can't take an active role in those nine special months. As a future father, you'll want to ensure that your baby and wife make it to the other side happy and healthy. Here are three warning signs to look out for.
Bleeding
Whether it's the first, second or third trimester, any bleeding from your wife will likely require attention. Even if it's only a little spotting, you should probably contact your doctor to ensure everything is progressing according to plan. Although it's probably not serious, bleeding could be a sign of many different complications ranging from a possible miscarriage to a placental abruption.
Early contractions
Contractions could be a sign that the baby is on its way, so it's important to pay attention to any abdominal pains that may occur in the third trimester. Many women experience false contractions (known as Braxton-Hicks), which are less severe and predictable than normal ones. However, if your wife experiences contractions that grow increasingly intense and occur within 10 minutes of each other, it could indicate she's going into early labor. Immediate care and bed rest can help delay labor and keep your baby from making too early of an appearance.
Infrequent baby activity
As your wife progresses further into her pregnancy, you'll both be delighted when you first see or feel your child moving around in her womb. Eventually, this type of motion will become a commonly occurring activity. However, you might want to take note if you suddenly notice a drop off in kicking or moving once your baby becomes active. It may be best to call your doctor in this instance.