Parents are not always good at assessing when their child is emotionally ready to begin the potty training process. Some children may be able and willing to potty train, but they do not always verbally express this to the parents. If a child speaks or acts in ways that indicate she would like to use the potty then she is most likely ready to try. Just because children want to, doesn't mean they are willing to do what is necessary to achieve this goal. Some children will try before they are able to coordinate all the activities and bodily functions that provide success. But if a child hints he would like to try, then encourage him and give him the opportunity even if he is young.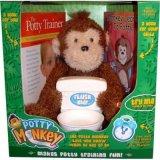 What a parent can do to get their child ready:
Allow your child to do independent activities
Praise your child for independent behavior
Explain the terms 'wet' and 'dry' whenever changing diapers
Tell your child it is good to have clean and dry diapers
Reward or encourage your child when he tells his diaper is wet or full
Change diapers in the bathroom and flush poop down the toilet
Have your child watch (and help) you flush the toilet
Talk about going to the potty

—

discuss the urge to go
Show your child how you and others in the family go potty
Discuss pee and poop habits in your own friendly terms and use these terms often
Introduce your child to the potty and explain how it works
Consider getting your child her own special potty so she can sit on it and read, etc.
Have your child sit on her potty while you sit and use the toilet
Praise your child for sitting on the potty
Do not initially force your child to sit on the potty
Make sure your child's clothes are easy to remove—avoid buttons, belts, overalls
If your child is unsuccessful, do not view this as a setback, but do remember to praise your child for simply attempting the challenge. On the other hand, if a child never expresses an interest in potty training, she should still be given the opportunity. Coaxing by parents is reasonable, especially if the child is mature in other areas. Some children need the ideal setting so they are not easily discouraged or afraid when they do try. For example, parents will need to be more patient and provide extra encouragement to children that seem uninterested. The potty should be comfortable and not intimidating. Explaining and exhibiting normal bladder and bowel movements may be necessary. Rewards and praise may go a long way. Emotional maturity is difficult to assess in some children, but if a child wants to train allow them to try, and if a child does not want to train give her a reason to want to.