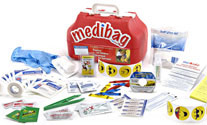 Children are 9 times more likely to get injured at home than anywhere else. An average of 3.4 million home injuries are treated in hospital emergency departments each year, among children less than 15 years of age. More than half of the visits are by children between the ages of 1 and 9, who are treated for fall-related injuries.

The best way to prevent and be prepared during times of need is:


Be aware of child product recalls.

Child proof your home.

Have a solid foundation of CPR and First-Aid training.

Maintain a reputable and user friendly First-Aid kit.
To address the need for a First Aid kit, Pete Nassos, along with his wife Richelle, has invented the Medibag First Aid Kit. The bright red Medibag contains a quick action First-Aid flip chart, CPR and First-Aid training, and assorted children's First-Aid products.
Pete Nassos created the kit after a common household injury with their oldest child left the family feeling unprepared to give first aid in an emergency. After two years of development and testing, during which Pete gave up his day job to spend more time with the kids, they came up with the Medibag.
"In focus groups, we found that most families were unprepared on how to handle minor injuries that happen around the home. Furthermore, so few parents were CPR and First-Aid trained. Our goal is to bring First-Aid awareness into as many homes as possible and to help keep families safe and healthy" says Nassos.
Medibag has been receiving accolades across the country, including being named "Best Product of 2006" by iParenting, the Baby Atlas Choice Award, and the National Parenting Center Seal of Approval.