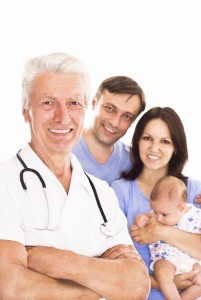 The debate over whether there are more pros than cons to circumcision has been going on for decades, and earlier this year there were a number of studies that seemed to reignite the discussion on the issue, The Washington Post reports.
Among the leading studies to come out in favor of the common surgical procedure was one which found that men who were circumcised had less chances of infection, and were less likely to contract AIDS and other sexually transmitted disease. Still, there are some opponents who feel that the surgery is an unethical procedure to perform on young children.
Despite the revelation of health benefits, the rate of circumcision has dropped considerably over the past several decades. According to the news source around 56 percent of male newborns are circumcised, down from around 80 percent in the 1960s.
Health benefits or not, many experts say it comes down to personal preference and is ultimately up to the moms and dads whether or not they want the surgery performed on their sons.
"It could end up being anything from: It ought to be done on every male; on only some males; or only if the parents want it to be done," said Susan Blank of the New York City Department of Health and Human Hygiene told the news source. "It could fall anywhere along the spectrum."