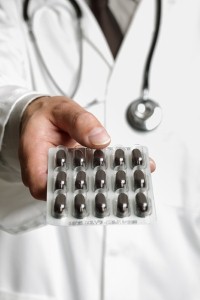 For many dads, getting enough nutrients can be a daily struggle. Between workingand taking care of one's kids, it might seem like there isn't enough time in the day to cook a nutritious, healthy meal. Times like that are when supplements come in handy. Though some are less effective than others, there are several supplements that have proven to yield numerous benefits for men.
One of the best supplements for men is the aminio acid Acetyl L-Carnitine. Men's Health reports that this nutrient has shown to protect gray matter in the brain from the damage caused by alcohol and stress. Additionally, studies have shown that it can reduce mild depression as well.
Living a stressful lifestyle can typically wreak havoc on a dad's blood pressure, but luckily there are supplements to help combat the condition. Conenzyme Q-10 has been proven to protect blood vessels from damage and increase results of exercise, the publication reports.
Among the most widely used supplements is fish oil, and for good reason. The nutrient has been shown to boost levels of good cholesterol and lower the risk of heart disease as well as reduce one's chances of developing colon and prostate cancer.
The last benefit of fish oil is especially important. According to the American Cancer Society, prostate cancer is the second leading cause of death in men, behind only lung cancer.