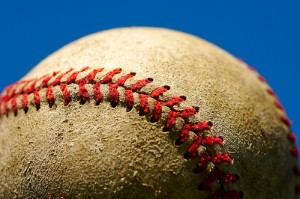 We all know that parenting can be a full-time job. But as the Winter Olympics transition into March Madness, and Major League Baseball spring training starts up, many dads out there are realizing that being a sports fan can be a full-time job as well.
Parenting and sports overlap more than one might think. You might reference baseball great Rickey Henderson to teach your children about grammar. You might draw on the Dallas Cowboys of the mid-90's to reinforce your "don't do drugs" speech. Finally, maybe you'll decide that Tiger Wood's career makes the perfect segue for a talk about the birds and the bees (and more birds and more bees).
Sometimes, just cheering for a winning baseball team can feel like having nine children of your own – except unlike your kids, most of these guys will actually stick to their bedtime.
But while the similarity to fatherhood and sports is strong, there are some key differences worth noting if you're going to be good at either.
1.) There's a difference between real life and fantasy sports. Unlike in fantasy baseball, football or basketball, you can't trade your kids when they start "underperforming." Even if your child brings home a "D" on his or her report card, or is caught sneaking out of the house, they're still a member of your squad. But while you can't drop them from your team, contract (or allowance) renegotiations are acceptable.
2.) You shouldn't bet on your kids. Maybe you shouldn't bet on sports either, but nobody's perfect. But wagering on your children's performance in school, number of girlfriends in high school and first word are sure to put strain on an already delicate relationship.
3.) You don't tailgate for school events. You don't want to be that guy with the grill and cooler outside of your daughter's dance recital – no matter how pumped up you get about ballet.