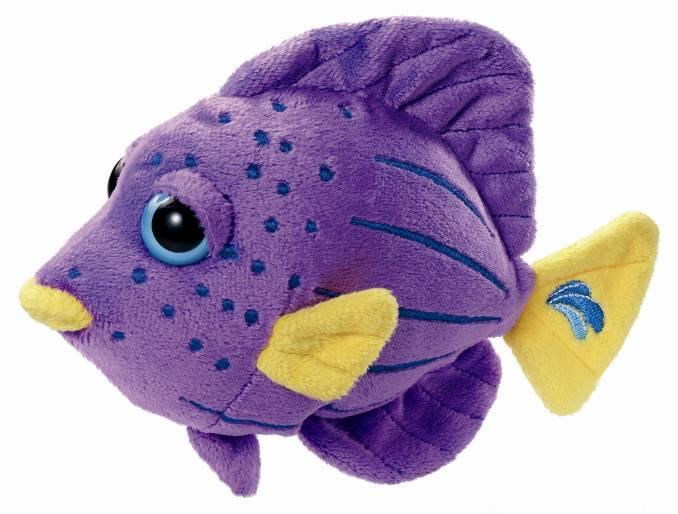 Put away your snorkel and flippers, your
fish tank and filter and get ready for the ultimate virtual underwater experience. Applause® from
Russ, a brand of Russ Berrie and Company, Inc. (NYSE:RUS) and its subsidiary Russ Berrie U.S. Gift,
Inc., introduces SeaPals™, a new line of marine-inspired plush that allows members to create their
own virtual and interactive aquarium amid realistic ocean scenery.
Each SeaPals character
comes with a secret code that allows you to log on to www.seapalsworld.com where you can create your
virtual aquarium. Personalize your tank with castles, sand, coral and treasure chests, and ensure
your aquarium thrives by feeding and nurturing your fish and keeping your tank clean.
Once
you're settled in your new tank, you can choose to stay in your aquarium or jump out into the
ocean, where you can play games, chat with other fish in the sea, explore reefs and shipwrecks, and
learn about marine life.
Conquer deep-sea challenges and explore the ocean to discover
hidden treasures and collect hard to find items that you can bring back to your tank or share with
friends. Earn and collect 'Pearl Points' by playing games and engaging in fun activities.
To support the preservation of marine environments, RUSS will 'seas the day' by making
donations to local aquariums to help raise awareness about the importance of oceanic conservation.
The first ten characters in the SeaPals school of fish include the Bannerfish, Blue Lobster,
Clownfish, Sea Turtle, Shark and more. If you're a land lover, your SeaPals character also doubles
as a finger puppet, bringing it to life on land and in your virtual aquarium. Bring the beauty of
your aquarium to your computer screen – the SeaPals virtual aquarium doubles as a screensaver when
the sea is calm and you step away from your computer.
The first ten SeaPals are available
now in stores nationwide for an approximate retail value of $11 each.
More information about
Russ Berrie and Company, Inc. can be found at: http://www.russberrie.com.
GREATDAD CONTEST
Win a Seapals plush toy by simply answering the question – what, according to you, is the best or worst part about being a dad? Funny answers, sentimental answers, or even insightful answers will be preferred. Let us know using the comment form below. Last date for entries is August 29, 2008.
Read the rules and regulations.
Contest Update: The contest is closed. See the winner's page.