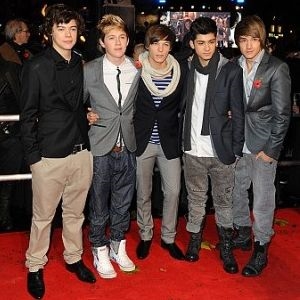 Movie Review: 'One Direction: This Is Us'
Rated: PG
Running Time: 1 hour 32 minutes
Release Date: August 30, 2013
Child-friendly?
A music documentary about boy band sensation One Direction? Being a father is full of challenges, but there are human limits.
The inanely-titled "One Direction: This is Us" doesn't set out to break cinematic boundaries. Instead, it follows the band across the globe on tour, features plenty of concert footage and also tells the backstory behind Niall, Zayn, Liam, Harry and Louis – all of which you could care less about, but your daughter's super into it.
You've probably seen this kind of movie before, whether it was Hannah Montana, Katy Perry or the absolutely awful "Justin Bieber: Never Say Never." But while it's no Scorcese's "The Last Waltz," this flick isn't as bad as it seems up close.
Also, go figure, the movie's directed by Morgan Spurlock, the documentarian behind "Supersize Me." If anyone is able to make modern pop stars palatable, it's a filmmaker with some Academy Award nods.
Is it popcorn worthy?
Okay, so most dads understand your situation. You've got a tween girl who's absolutely gaga for a music group of ridiculously looking guys with absurd hair and stupid clothing. Nevermind that this is no different than your high school girlfriend's adoration of Duran Duran – or your undying love of early Guns N' Roses – modern boy bands are insufferable.
But here's the kicker: Provided you know what you're in for, "One Direction: This is Us" isn't all that insufferable. It's actually well-structured, occassionally interesting and much better than Bieber's concert documentary. Making boy bands somewhat interesting to all but their devoted fans? That's no small feat. Furthermore, the New York Times gave the new One Direction movie a thumbs up, and they're a bastion of high culture. Think of it as a sociological glimpse inside the mind of a tween – and try not to cringe with horror.
So yes, you've probably heard enough of One Direction every morning on the ride into school, but it's only 90 minutes of your life you won't get back. Plus, it'll make your daughter go nuts, and there's nothing better in fatherhood than seeing your kid happy.
Grin and bear it. In a few years she'll discover Dylan and the 'Stones and be asking you to sneak her into the latest R-rated indie flick. Then you'll be dealing with actual teen troubles. But at least the music will be better.