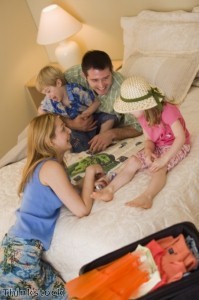 Tough economic times have forced many families to rethink their summer vacation plans. In order to cut costs, many are choosing "staycations," where families take time off and enjoy staying home and planning nearby activities together, as an alternative to more expensive vacations.
Experts say a good parenting advice tip for planning a stay-at-home vacation, especially with kids, is to plan what you want to do ahead of time.
The options for staycation ideas are endless, depending on you and your children's interests. Some popular ones include:
1. Camp in the backyard. Pitch a tent, cook your dinner under the stars, tell stories and spend the night in your own backyard.
2. Be a tourist in your own city. Visit museums and other local tourist destinations by day and stay at a local hotel overnight. Take advantage of the hotel's amenities, like the pool, gym or spa, to really feel like you're "away."
3. Go hiking. Trails.com can help you find a trail in your area. Pack a lunch and head out for a back-to-nature adventure!
4. Plan a water day. Visit the beach or spend the day at a local pool or water park. Fathers with younger children may even decide to fill up a kiddie pool, get out some water toys and spend the day splashing at home.
5. Go to the movies. Borrow some DVDs and have a movie marathon in your living room. Or, take advantage of free movie offerings at local theaters.
Whatever you choose, remember to avoid spending your at-home vacation cleaning and doing projects at home. Unplug from work email and cell phones to truly feel like you've gotten away.