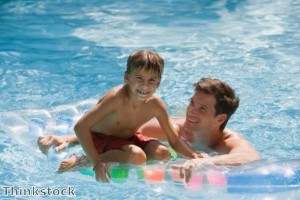 Summer camp can be a rewarding and fun experience for kids of all ages. Whether they attend day camps or overnight camps, experts say fathers should take action to ensure their kids stay safe and healthy while attending.
"Parents should ask camp organizers basic questions about what plans they have in place to keep kids safe, handle medical emergencies, and deal with routine health needs," said Dr. Patricia Hametz, of NewYork-Presbyterian Morgan Stanley Children's Hospital.
Other parenting advice tips to keep young campers injury-free include:
1. Stay hydrated. Remind your child to drink often, even when they don't feel thirsty while spending time outdoors or in the heat. Pack a refillable water bottle to make staying hydrated easier.
2. Practice sun safety. Kids should be dressed in light-colored, lightweight clothing and should use a sunscreen with an SPF of 30 or more every day.
3. Be safe in and around water. Remind your kids to follow all camp rules in and around pools, lakes and other bodies of water. Children should never be around water without a certified life guard on duty.
4. Protect against bugs. Using an insect repellent with no more than 30 percent DEET and avoiding scented soaps, lotions and hairsprays will help your kids keep the bugs at bay.
Dads should also make sure that the camp has all of their kids' emergency contact information, including the name and phone number of their pediatrician as well as information on any medical conditions or medications their children have.