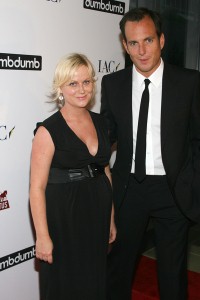 Fatherhood isn't a piece of cake for Will Arnett. After welcoming his second child with fellow actor and comedian Amy Poehler in August, Will Arnett says the couple has been dealing with a general lack of sleep.
"It's super great, but we have been going back to sleepless nights," Arnett told People magazine at the New York Television Festival's premiere of his new show, Running Wilde. "It coincided with when I started the new show so it's been a very sleepless time."
The couple's second son, Abel James, was born in August. He joins big brother, Archie, who will be 2 in October.
Right now, the former Arrested Development star says that he looks forward to the weekends for some rest and some quality time with his family.
"Usually weekends are to rest-up because I've been working non-stop, but getting to spend time with your kids is just the best," he told the news provider.
Arnett's new comedy, Running Wilde, co-stars Keri Russell. It can be seen Tuesday nights on Fox.
"It's about two people who were each other's first love, then went off in their own directions. But at this point in their lives they need each other," Arnett told the Canadian Press.