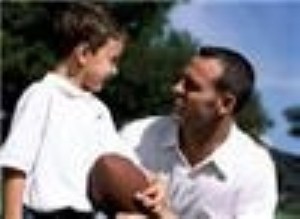 While every new season of the NFL can bring a variety of surprises, like this year's non retirement of Brett Favre, there is one constant: it's always a great opportunity for fathers to get close to their kids.
In American society, watching football games is already perceived as a group activity and when fathers introduce their favorite sport to their children, it can also be an effective bonding exercise.
Some good parenting advice to get children involved with football-watching on Sunday afternoons is to give them appropriate jerseys to wear during the game. Better yet, personalized family jerseys may solidify the event as a family gathering.
Fathers should find time to explain the rules of the game, but not get too specific. Patience will be required on some confusing plays, so be sure to be ready to lower the volume for the explanation. Remember, this is about introducing kids to the game.
Getting them outside to play some football in the backyard may be one of the best ways for them to get a handle on the rules. This also gets kids some much-needed exercise.