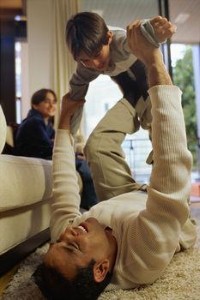 You've always had every intention of being there for your children, but not every child has a father like you – nearly 24 million American kids are growing up without dads, and the consequences of life without a father can be serious.
According to the National Fatherhood Initiative, children who grow up without their fathers are five times more likely than their co-parented counterparts to live in poverty. They're also significantly more likely to be poor when they grow up.
Furthermore, a 2005 study published in the Journal of American Academic Child Adolescent Psychiatry found that children who are not living with both biological parents are four times more likely to have an affective disorder, like anorexia or social anxiety.
Studies have often indicated that children who grow up without their dads are more likely to break the law, and more inclined to become violent offenders. In 2000, the NFI says, a study of 109 juvenile offenders showed that those whose family structures lacked a father were more likely to be incarcerated.
Being a part of your children's lives does more for them than they'll ever know, so this weekend, take them out to dinner or to the movies to remind them how much you care.