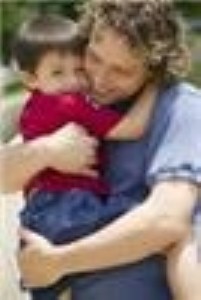 Stuttering may not have a cure, but there are some simple parenting skills that a father can use to help his child overcome speech difficulties.
More than three million Americans stutter, according to the National Institute on Deafness and Other Communication Disorders. Boys are three times more likely than girls to have a stutter and it most commonly arises when children are between the ages of two and six.
The Nemours Foundation offers moms and dads some parenting advice for dealing with stuttering, which may cause kids to feel self-conscious when speaking.
First, the foundation explains that speaking should be encouraged as a pleasurable activity, rather than one that requires flawless performance.
Speaking to your child in a calm and unhurried way can help them relax, as can removing any distractions – such as television or radio – from conversations.
It also suggests that parents who give their stuttering kids too many instructions or advice may end up making them even more anxious, as can corrections to their speech.
And the foundation also warns against showing frustration with a child's stuttering. Data from the NIDOCD reveals that most children grow out of it before they reach adulthood.