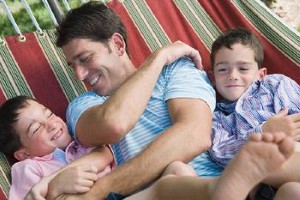 If your child is scared of monsters, ghosts or anything else you're not alone. Experts say that being afraid of things is a normal part of child development. But a new study suggests that how fathers deal with their children's fears should depend on the children themselves.
Researchers at the University of California at Davis found that when it comes to real scary things, like snakes or spiders, most children want to do something instead of waiting to see what happens. Young boys involved in the study often suggested fighting, while girls wanted to avoid the creature.
As for fears of imaginary things like dragons or ghosts, researchers say preschoolers benefit from pretending the creature is friendly. A parenting advice tip for school-aged kids, however, is to remind them about reality. For example, if your child is scared of monsters hiding under the bed, you could tell them that monsters aren't real.
No matter what, experts at KeepKidsHealthy.com say parents should always respect their children's fears. Helping them talk about what is scaring and coming up with a way to ease the fear is important. Fathers should help their children face their fears by supporting them emotionally and giving them reassurance and comfort when needed.